The Long Lasting, Lickable, Healthy Treat
The Long Lasting, Lickable, Healthy Treat
Frozzys frozen yogurts are low in fat, sugar and calories and can be enjoyed by dogs of all ages, sizes and breeds.
Lickable straight from the pot, they're perfect as a long-lasting, a cooling treat and a fun way to treat and reward your pup.
Our delicious and healthy dog treats pack a nutritious punch, whilst keeping your pup lip-lickingly satisfied.
Give your dog the treat they want and deserve and keep their tails wagging all the way to dinner time.
What Our Customers (and Their Owners) Have to Say
Troy the Mini Dachshund (and Rebecca)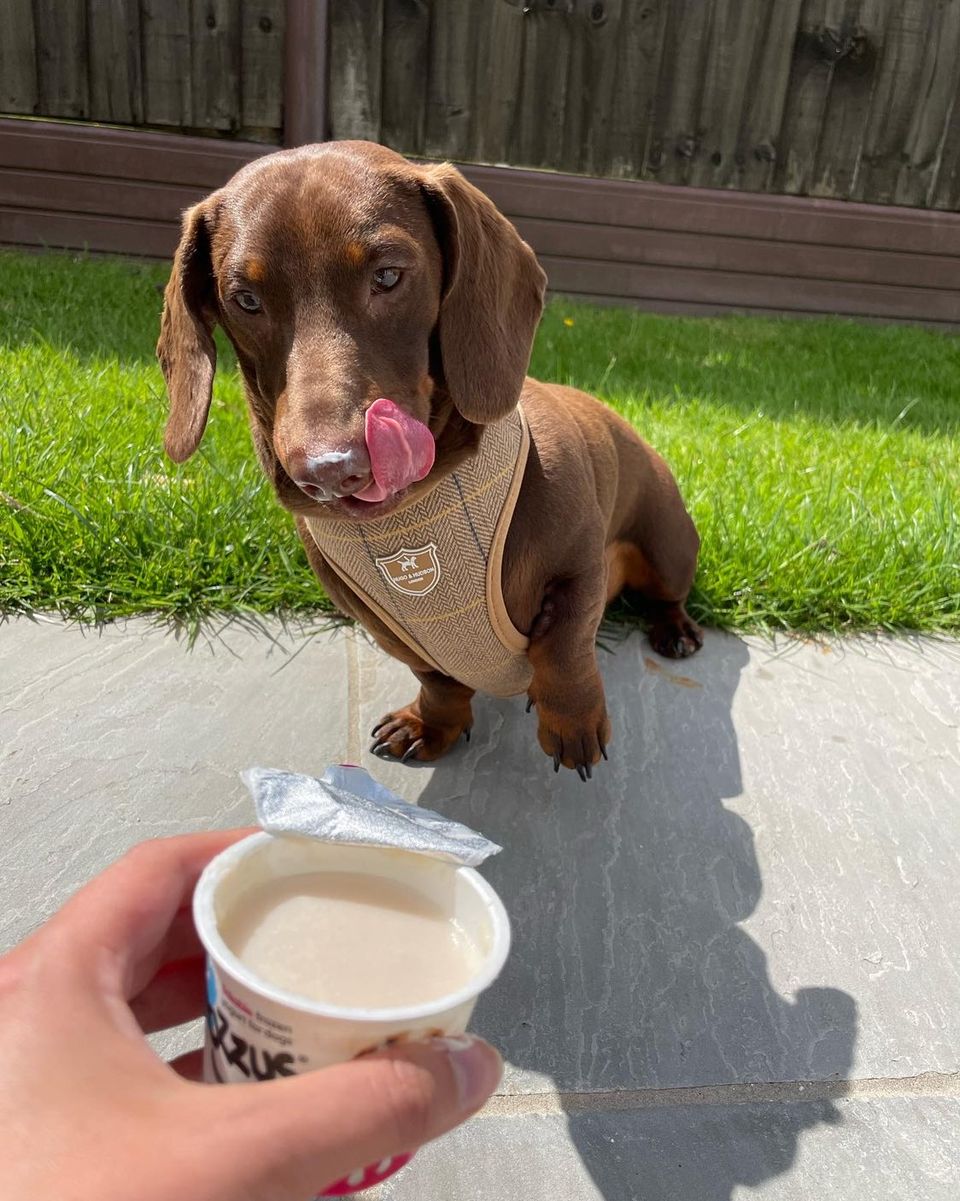 Troy the Mini Dachshund (and Rebecca)
"Troy absolutely loves Frozzys!
We always keep them in the freezer for warm days.
As soon as he sees the packaging he can't control his excitement.
I love how long lasting they are which makes it fun for Troy as he's kept busy whilst also enjoying a delicious and refreshing treat."
- Rebecca
Follow Troy on Instagram @troyminidachshund
Max the Cocker Spaniel (and Hilary)
Max the Cocker Spaniel (and Hilary)
"Dear Frozzys,

We have 2 very happy puppies whom we have introduced to Frozzys!
With the hot weather it's great to know they can cool down with a healthy treat.
This is Max one of our cocker spaniel puppies loving the Frozzy Vanilla.
Thanks again for such a brilliant product for the most special members of our family!

Kind regards,
Hilary"
Putney Beagle (and Alex)
"I'm @putneybeagle and I love my Frozzys, especially the cranberry and vanilla/natural flavours.
I'll eat the blueberry ones too! They are yummy to lick on a hot day and amazingly they don't melt very fast so I can really enjoy them for a while.
I like eating the container they come in as well, but my Hoomum is less keen on that.
I have a sore lip at the moment and I really like how the Frozzys cools it down and eases the pain. And they taste much better than horrid medicine!
My Hoomum knows that when I sit in front of the freezer it's because I want another Frozzys! And she's kind so she gets one out for me.
I'm so lucky!"
- From Putney Beagle himself
Follow @putneybeagle on Instagram
Where Can I Buy Frozzys Frozen Yogurt?
You may have noticed we don't sell the Frozen Yogurt via our website, however we're available in many stockists all around the UK and Ireland.

Use our Store Locator below to find a stockist in your area.
Contact form
Got a question about Frozzys Frozen Yogurt or just want to chat?
Our Frozzys Superbites are gently hand-baked in the UK and Frozzys Frozen Yogurt are also carefully made in the UK.
Frozzys frozen yogurt treats are suitable for all dogs over 12 weeks and the Superbites are suitable for dogs over 16 weeks.
Puppies will love our Frozzys treats. Just follow the guidelines as to when they can be consumed.
Yes, all of our treats are low in sugar and calories.
Yes – both Frozzys Frozen Yogurt and Superbites are grain free.
Our products do not contain added sugar, salt or preservatives.

The frozen yogurt is preserved naturally by the freezing method and we use a unique baking process to make our Superbites. We therefore do not need to add any preservatives.
This is a technical term for the essential minerals your pooch needs eg. iron and zinc.
Moisture content is simply the water level expressed as a %.
The shelf life is 24 months from date of production which you will see on the packaging label.
Probiotics are living organisms otherwise known as 'good bacteria', which support optimal intestinal microbial balance. Age, diet, stress and medication can unbalance a dog's microbiome, which can cause health problems such as diarrhoea, gas, bloating depression, allergies and diabetes. Consuming probiotics through the diet can contribute to a balanced microbiome.